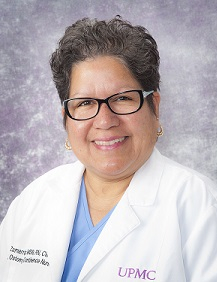 Cecilia Zamarripa PhD, RN, CWON
Wound, Ostomy, Continence Nursing Manager, UPMC Presbyterian
Cece Zamarripa's professional experience includes 40 years in nursing and WOC Nurse for 36 years. Manages the UPMC Presbyterian Wound, Ostomy and Continence Nursing department that includes Clinical Research Coordinators and a Pressure Injury Prevention Study. Work experience includes WOC Nurse at Baylor University Medical Center in Dallas, Texas; Rush University Medical Center Chicago, Illinois; and now at the University of Pittsburgh Medical Center for the past 26 years. MSN (2007) and PhD (2021) at Duquesne University.
Served as the 2010 Joint Commission Resources Patient Safety Scholar in Residence. Her teaching experience includes web-based RN to BSN program and Community Health Nursing. Preceptor for nurses completing their WOC Nursing Education Program. Course Co-Coordinator Wound Treatment Associate (WTA) and Ostomy Care Associates (OCA) courses.
Active member of WOCN Society™ since 1986. Previous Treasurer of the Western PA Regional Affiliate WOCN Society. Current volunteer member of the WOCNext National Conference Planning Committee, WOCN Peristomal Consensus Panel member. She is also a member of Sigma Theta Tau, Western PA Area Chapter for National Association of Hispanic Nurses (NAHN), AAWC, NPIAP supporter, and the World Council of Enterostomal Therapist (WCET).